January 30, 2014
Ringside Chat With Adrienne Lyle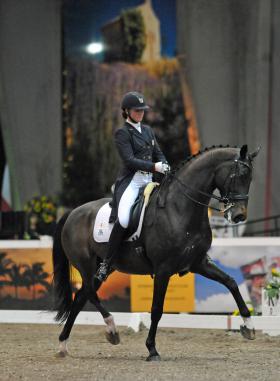 "I think he's really starting to get stronger, mentally and physically," said Adrienne Lyle of Wizard. Photo by Lisa Slade.
PRINT
Adrienne Lyle and Wizard jumped onto the international dressage scene when they competed as individuals for the United States at the 2012 Olympic Games in London.
Lyle's worked as Debbie McDonald's assistant trainer since 2005 and is based out of Parry and Peggy Thomas' River Grove Farm in Hailey, Idaho, most of the year. She's down in Wellington, Fla., for the winter with her top Grand Prix horse Wizard, a 15-year-old Oldenburg (Weltmeyer—Pica, Classiker) gelding owned by Peggy Thomas, and a team of younger horses. Lyle's already started her 2014 competition season with Wizard, placing second (70.54%) in the Wellington CDI-W Grand Prix Special at the Adequan Global Dressage Festival.
We caught up with Lyle recently at the AGDF showgrounds to hear about her plans for the season, her reflections on the past few years and about why she still loves riding young horses. 
What has Wizard been doing since last winter circuit?
Last season was cut a little short for Wizard. We came and did the World Dressage Masters [CDI*****, Fla.], and after that he sustained a bruise to his coffin bone. We went and got that MRIed, and they said he should have two to four months off. We ended up giving him more than four months because we wanted to make sure he was 110 percent. We didn't want to start him back, find out it was still there and then have to give him more time off.
He was tack walking the whole time, but it just takes a long time for a bone bruise to heal. It's something that heals 100 percent—you don't have to worry about it later—but you have to give it the time.
So we had to scrap our plans for last summer, unfortunately. I'd applied to go to Aachen and to do some other really cool stuff, and I received the [Carol Lavell $25,000 Training Grant] we still haven't used. We kind of had to go back and re-plan everything. We considered going to Europe in the fall, but he wasn't fit enough to throw him right into a show, so then we set our sights on Florida. So we're here with him, and then we have six other horses in our barn.
Who are the other exciting horses in your barn?
I have an 11-year-old Prix St. Georges horse I hope to do small tour stuff with, Dax, who's owned by Parry Thomas. Then we have three 5-year-olds owned by various people; I own part of one, and the rest are owned by clients.
We also have Brentina's 3-year-old baby, Dillinger, who's by Damsey. He's here playing around and learning what it's all about. I think he's going to be very special. He's very refined and petite, but he's super sensitive when you ride him, like Brentina was.
Talk about your plans for the next few months:
We're staying at Betsy Juliano's Haven Safe South here in Florida. It's a great environment, and you can ride out on the trails. The horses love it.
We'll be down here through April. Then, depending on how the season goes for Wizard, we have our sights set on Gladstone, N.J., for the [USEF Dressage Festival Of Champions and the Alltech FEI World Equestrian Games] selection trials. We probably won't ship all the way back to Idaho if we're going to do the trials. We'll probably find somewhere on the East Coast to hang out until then.
I declared for the [FEI Reem Acra] World Cup in France. That's about as far as I've thought about that. It's an option. If it doesn't pan out to go to Europe [for the WEG or World Cup], I would still consider using the grant to go and train with Carl Hester in England.
What has been your focus in schooling Wizard lately?
We've been really working on trying to confirm his piaffe and passage. The transitions between the two have always been a weak point. He's always had a talent for piaffe and passage, but kind of getting his brain wrapped around it and getting it all put together in an organized fashion was challenging.
I think he's really starting to get stronger, mentally and physically. We recently rode in the USEF clinic with Robert Dover, and he was very complimentary of him, and Wizard did some super fantastic work.
What did you learn from your experience of competing at the 2012 London Olympics?
That was my first really big international competition, so it was about being exposed to what's out there, and the level it takes to play on that field.
Our sponsors are well over 90 years old, so we're in the process of figuring out where to go from there and how to make our own horses. I'm not going to go out and buy myself a made Grand Prix horse any time soon, so that's been our redirection since the Olympics.
Now I know where we have to be, and we have to figure out how to get there. 
Do you enjoy riding young horses?
I love the young horses. I've always started my own young horses, and I love every little thing about it—from them learning to trot under saddle and on up. I think it's so exciting, and I much prefer that over buying someone's made horse and trying to learn the buttons. If you do it yourself, everything is so second nature to you.
Maybe you get a glimpse of something in a young horse that no one can see, but you get a feeling when you ride them. Trying to produce that feeling to the end is really fun. 
How has your relationship with Debbie McDonald changed over the past few years?
Debbie's always been incredibly wonderful, and she's been the best mentor and supporter and teacher. Now she's doing a lot more outside training and stepping away more from the day-to-day stress of running the barn. I'm able to step into that a little more, and that works really well. She's still there overseeing everything, and she coaches me daily on Wizard, but she's also able to go do more stuff she wants to do.
What are the differences between being in Idaho and being in Florida?
Everything is different! But I love being in Idaho, too; I love having a break from the whole show season and being able to focus on the training. You get in a rhythm of the showing, and you kind of have to brush stuff under the rug at a certain point and figure out how you make it look good in the ring.
When you go home, you really don't have that temptation. You get to really get down in the nitty-gritty and work on stuff that hasn't been working, and so when you get down here you're really ready to hit the ground running. 
This article is from Chrono of a Horse